The Best Food & Wine Gifts for 2021!
Okay, so a couple of my other passions, besides shopping for you lovely people, are food and wine. I LOVE food. I love learning about food, watching how food is made, and especially, I love eating food. Same with wine. So, these recommendations come from the very depths of my heart and more importantly, my stomach.
Milkbar Pie (formerly Crack Pie)
You cannot go wrong with anything from Milkbar. Everything they create, from the birthday cake to the compost cookies, will make your eyes roll back into your head. This pie is like warm buttery, gooey goodness, and it's honestly one of the best delights in existence. Back in the day, you would have to visit the Big Apple to grab these goodies, but now they ship nationwide!
St. Viateur Bagels from Goldbelly
As a once and very typical arrogant New Yorker, I often argued with people that we had the best bagels on the planet. That is until I visited this place in Montreal. I have to give it to Canada on this one. These bagels are THE BEST, and believe me; I've had a lot of bagels. It's in the water, and it's in the exceptional way they make them. Whole natural ingredients go into their recipe dough made in smaller batches to ensure individual quality. The dough is brought to a simmer in honey water…(yes, honey water people!) to help build their distinctive taste and texture. They are then baked in a wood-fired oven until crispy on the outside and chewy on the inside. Thanks to Goldbelly, you can get these now. I expect lots of "thank you" emails. 🙂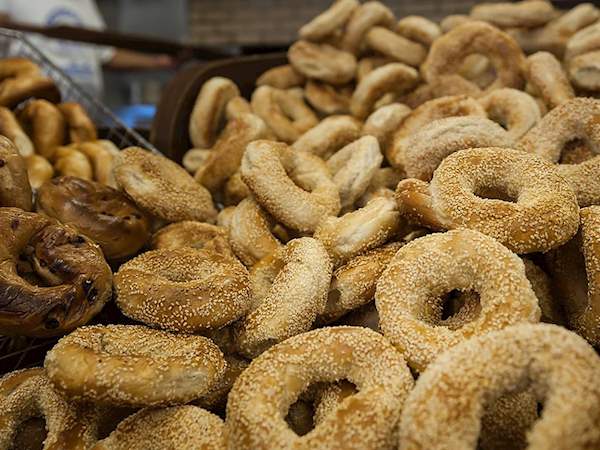 Adopt an Olive Tree from Food52
You guys, I'm obsessed with this brand. They have so much going on in all the best ways possible. You'll see many of their products featured on this site because their products are chic, high quality, beautiful, functional, and revolve around cooking and food. Food52 (Five Two) products are more like a work of art than appliances and cookware. They also have great gift ideas and one of my favorites is adopting an olive tree! With this gift, you can be part of the proud tradition of olive oil-making while supporting the local farmers and producers who keep these time-honored methods alive. Check out all the options here:
Spoonful of Comfort
What is better than a hug? A whole box full of them! When you receive a package from this fantastic company, you will feel all the warm and fuzzies and very, very loved. With so many flavors of soups, just like mom used to make, you will have a bit of a hard time choosing, so we suggest trying them all! This makes an excellent gift for a loved one who is sick. It also is a comforting and tasteful sympathy gift. And, don't forget that new grad who's off to college during these bizarre times. They could use this too!
Harry and David Artisan Appetizer Tray
Cheese, meats, chocolate and wine? Yes Please! These "Godfathers of the Giftbasket" have expanded their repertoire and offer high-quality, delicious gifts for anyone or any occasion. Harry and David is definitely my never-fail, go-to for the person in my life who has everything.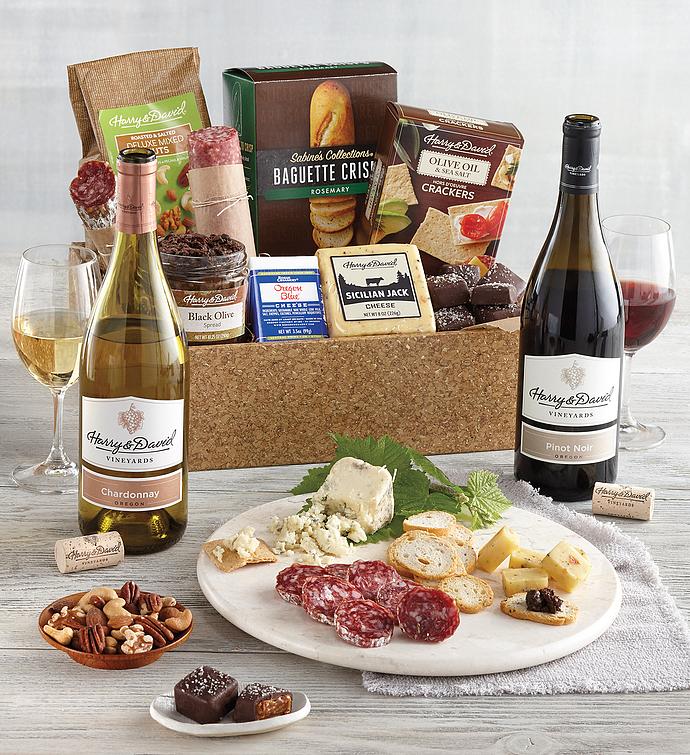 Hello Fresh Subscription
A meal delivery service like HelloFresh exists to deliver you healthy ingredients, so you can quickly (and easily) cook delicious and nutritious homemade meals without all the hassle of planning, shopping, and prepping. I mean, who wants to spend more time at the grocery store right now anyway? The site lets you customize your delivery according to your family's size, dietary restrictions, and taste preferences. They alsohave several gift certificates in many denominations so that you can send someone one week, several weeks, or a month of deliveries.
Reaaalllly Good Olive Oil and Balsamic Vinegar from Williams Sonoma
Give me this, a baguette, a bowl and leave me alone for a while. ; ) One of my most trusted and favorite foodie brands, Williams Sonoma offers this dynamic duo of dippin' deliciousness. They've paired this exceptional quality velvety smooth olive oil with an equally luxurious and hearty balsamic vinegar, and you will savor every drop of both. This makes the perfect gift for any chef or food lover in your life.
Wine Subscription ONEHOPE Wines
I like wine. Just kidding, I LOVE wine! I also love philanthropy. ONEHOPE Wines is a fantastic company. They create beautiful award-winning varietals that, with each purchase, give a percentage to your favorite charity. The quarterly wine subscription includes six glorious bottles curated by their master winemaker. They also have adorable custom labels and gift boxes, which would make me cry tears of joy if one happened to appear on my doorstep. This is literally the gift that keeps on giving.